Do you love copper as much as we do? A great way to bring some copper into your décor is with a copper tray.  Why are these copper trays so great? Because they add a little bit of shine, glamour, and luxury to any style… not to mention they are functional!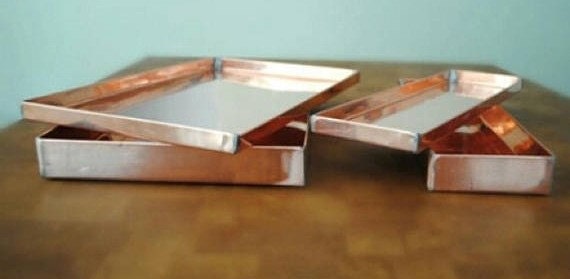 One of the things I love about copper is the fact that it has a "living" finish.  Unless you seal your copper, it will patina and the look will always be changing.  You can take a low-maintenance approach and let it patina over time.  The patina will develop faster depending on the environment.  The more moisture that your copper comes in contact with, the faster it will patina.  You can just sit back and enjoy the changing shades of reds, browns, and greens or you can put in a little effort to keep the shiny, new look.   
If you really love that brilliant shine of new copper, you will need to either seal it, or use a little elbow grease.  A quick polish will bring back the shine in no time.  You can find tons of recipes to make your own natural polish out of everything from lemon juice to ketchup (yes, ketchup!).  You can also find cleansers and polish that are commercially available, such as Bar Keepers Friend.  Just keep in mind that most of the commercial polishes use a chemical reaction to remove the patina so you will also want to use rubber gloves to protect your skin and follow all directions on the label.  We use Bar Keepers Friend as it works quickly and effectively and is very inexpensive.   (we are not affiliated in any way with Bar Keepers Friend)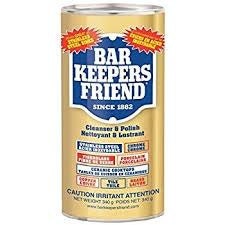 So, now that you know how to care for copper, you're probable wondering what could you use it for, right?  Well, the uses are endless! A popular use is as a tray for plants that get watered frequently.  Ever water a plant that's sitting on a table and later see the water damage it caused on the wood? Our copper trays are water-tight so they are perfect for putting under your plants.  They will hold the water that might leak out of your plants and protect your wooden finishes like tables, dressers, or windowsills.  This makes them great to use as a boot tray to keep your wet or muddy boots off your wood floors.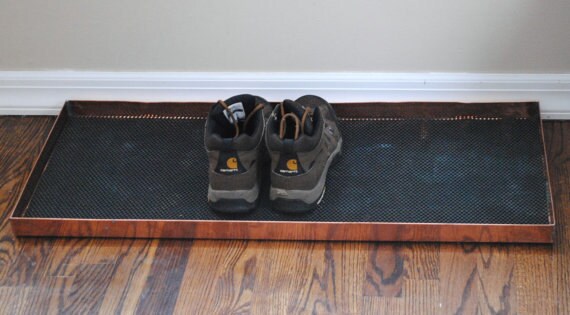 Copper trays are also perfect for holding candles.  The shiny copper beautifully reflects the candle light to create a nice shimmery glow.  Candles, flowers, or both would make a great centerpiece on a copper tray! We like to use one by the front door to catch things like keys, sunglasses, loose change, etc.  And don't forget, we can make custom sizes for a perfect fit in any space.  What would you use a copper tray for? Tell us in the comments and maybe you will inspire a new design!